Volunteering for Jazzoo is a wonderful way to show your support for the Kansas City Zoo. Consider joining us this year!
We welcome anyone who has some time to give and wants to help the Zoo's largest fundraiser. Give a few hours, a half day, a full day, or whatever you can spare.
We do our best to accommodate special needs for volunteers — just let us know in the notes section when you sign up.
We're always happy to have younger volunteers assist us during the daytime shifts. We just ask that they be with an adult the entire time they are volunteering.
Note that all volunteers will need to follow the Kansas City Zoo's COVID-19 policy during their shift.
The majority of volunteer duties will take place outdoors.
In compliance with the mayor's mandate, the Kansas City Zoo does require face masks in indoor areas for ages 5 and up.
Volunteers will be required to take a health survey one day before their volunteer shift.
Policy subject to change based on CDC recommendations.
Complete the sign-up form below and a Jazzoo volunteer will get in touch with you. If you have any questions, contact us at jazzoovolunteers@gmail.com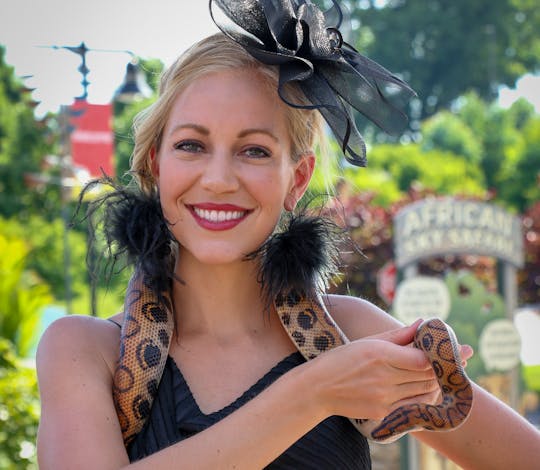 WORKDAY/PREPARATION
Wednesday, August 18, 3 pm - 7 pm
The key to success is starting early! We need volunteers who can help with preparing items for the set-up of Jazzoo on a workday prior to the actual event. Duties will vary depending on what's needed leading up to the event.
EVENT DAY SETUP
Thursday, August 26, 9 am - 5 pm
Friday, August 27, 9 am - 5 pm
Duties may include setting up decor, signage, and guest areas, restaurant load-in, and anything else needed to get ready. Most work will be done outside, rain or shine, so we suggest sunscreen, comfortable shoes, and a hat. We'll provide lunch.
EVENT CLEANUP
Saturday, August 28, 7 am to noon
Our Saturday morning volunteers will spend time at the Zoo before the doors open. We'll be packing up and organizing supplies from this year's event so they're ready for next year. You'll work inside and outside, so dress accordingly!